Renting a camping tent online has been made so much easier with the Olpro Loan & Go service. Simply choose a tent you need and add to cart with one click. With Loan & Go you can select from a range of tents and awnings that you can borrow from Olpro. If you don't camp often, this is a great way to hire the tent you need and save money. This takes away the need to buy a new tent each year as your circumstances change. Select a tent based on size, style and berth – we've got so many options. Tent can be borrowed for 3 or 7 days. Get in touch with Olpro if you need to borrow one for a longer period of time.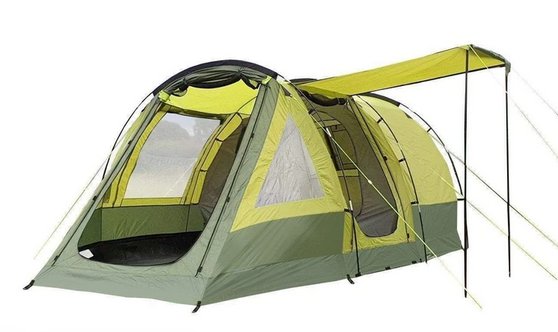 Which camping tent should I hire?
When you rent a camping tent from OLPRO, you can rest assured that you are getting great quality equipment.
Hire a Poled Tent
All our poled tents come with plenty of ventilation and fly screens on all doors and windows. What's more, they're easy to set up and they come with an oversized bag, so you won't struggle getting it back in. Tents are available for hire at bargain prices in a multitude of sizes – choose any size from a small pop-up tent to an 8-berth family tent. Whichever poled tent you need, you'll find exactly what you want for your camping trip at OLPRO.
Hire an Inflatable Tent
If you're looking to hire an inflatable tent – look no further. You will find that inflatable tents are easier to pitch when compared to traditional tents – which makes them perfect for beginner campers. Even when inflating multiple air beams, it is still guaranteed to be much faster than poled tents. If you're new to camping, we recommend alleviating some of the camping stress by renting a high quality, durable inflatable tent.
Hire an Awning Extension
Looking to get a bit of extra room for your next camping trip? We fully recommend hiring one of our spacious campervan awnings for the weekend. We are established manufacturers of quality outdoor leisure products, so you can rest assured that you're getting the best quality campervan equipment online.
Hire tents and awnings from OLPRO online
Prices include the delivery fee and the return fee. To return the tent after you have borrowed it, simply attach the returns label we provide and bring it to your local post office. We offer a multitude of tents in different sizes, shapes, and colours so we are sure that you'll find exactly what you need for your camping holiday.
Contact Olpro on +44 129 989 6959 or email [email protected] if you need help with renting a camping tent online.