There are few things more satisfying to me then the sound of rain on our campervan roof, or the
way the dawn light spills in first thing in the morning, coaxing you out of sleep and calling you to face
the day ahead. There's also watching the stars dot the night sky from the open window as I lay in
bed. For me campervanning soothes my soul.
Not the type of campervanning where you pitch up on big, sprawling campsites and find yourself
stuck in a sea of others – no, there is nothing soul soothing about that at all. In fact, the idea of that
fills me with dread, I like to be out in the middle of nowhere, where it's quiet save for the crackle of
corvids over-head, or the gentle lapping of water on stones.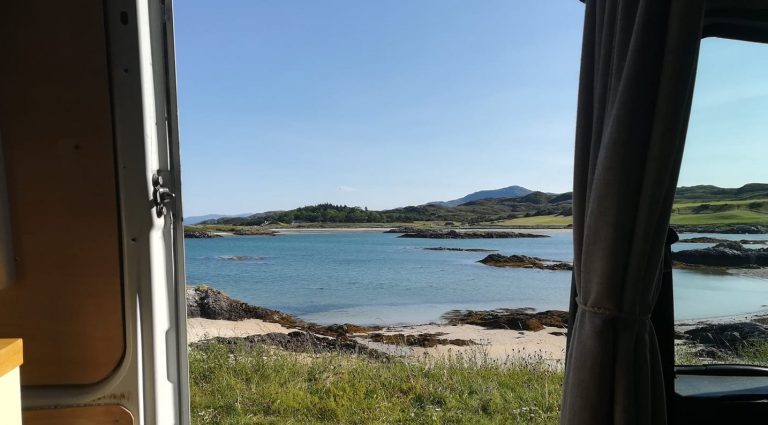 A lot of people think you kind find wildness on a campsite, but there are plenty of wilder sites that
offer you a chance to reconnect with nature. The sites with limited facilities, no lights, the option to
have a campfire should you wish and probably most importantly no Wi-Fi are fantastic ways to
reconnect with nature.
In fact, some of our wildest adventures have been on campsites. Small, five van sites, or a farmer's
field where they have let us squirrel ourselves away in a quiet corner. Here we have sat with the
doors wide open, the crackle of a campfire sending smoke signals up into the settling dusk as bats
whirl over head and owls hoot from the tree line.
My favourite and most definitely wildest experiences were in a camping field in Arisaig that sat
perched above a white sand beach. Each morning we would submerge ourselves in the icy, turquoise
waters of the sea and swim until our teeth chattered and our fingers turned blue. We would warm
them on hot coffee with our toes in the sand and watch as seals swam past on their way out to the
ocean. When we could, we would sleep with the back doors open and let in that special Scottish half
light of the summer, with far off islands sketched on the horizon.
We may be in a campervan and not in a tent, but we have still felt the wild. We have let in creep in
around our edges and cement its way into our everyday lives. Staying in a van teaches you to look
for the wild in every day, whether that's the sunrise, or listening for the songs of birds that drip
down from the trees.
Our van life has encouraged us to disconnect from many modern appliances and reconnect with
nature. We try to live as simple life as we can, we try not to fill it with things and gadgets and instead
to look out for and appreciate the slower simpler things. A good book with only the birds for back-
ground noise, the first stars of the evening, the gentle pitter-patter of rain our campervan roof.
– guest blog by Jeni Bell