Going on a camping trip with your furry best friend can be the perfect adventure for both of you. But before you hit the road, there are a few things you need to keep in mind. As much as your dog loves being by your side, being in a new environment can be intimidating for them. That's why we've gathered some tips for taking your dog camping to make sure that you and your pup have a fun and safe adventure.
1. Prepare your dog for the great outdoors
Before you go camping, start preparing your dog for the new environment. Take them on hikes and walks in the woods and let them get used to the sights and smells of nature. This will help them familiarize themselves with new things and get comfortable in a new place. You'll also want to make sure they're up-to-date on their vaccinations, to keep them safe against any potential illnesses they may encounter while out in the wild.
2. Make a list of essential supplies
Just like you, your dog will need some gear for camping. Make a list of essential supplies, such as a leash, collar, water bowl, food dish, and poop bags. You may also want to bring a dog bed or blanket to ensure your furry friend stays comfortable throughout the trip. Don't forget to pack plenty of food, treats, and plenty of fresh water for your pup. It's important to keep them hydrated, especially when they're running around in the sun all day.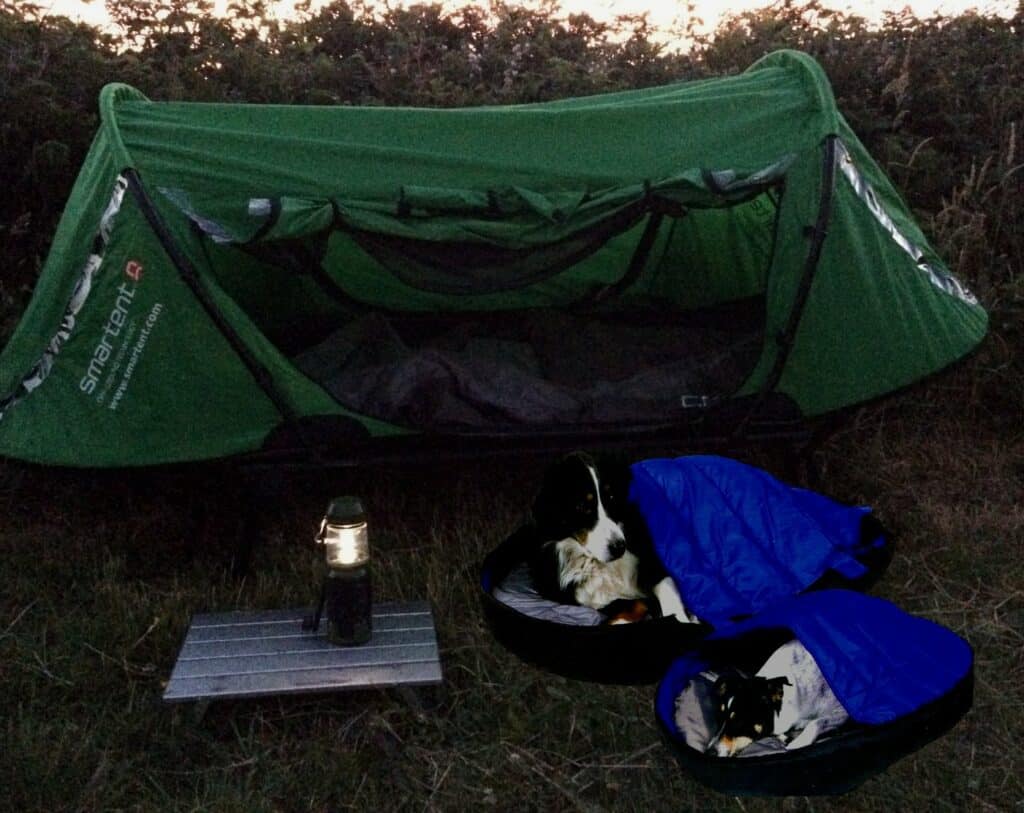 3. Choose a dog-friendly camping location
Make sure to research dog-friendly camp location before you head out. Look for places that allow dogs and offer amenities such as a dog wash and off-leash areas. You'll also want to ensure that the location has plenty of space for your dog to run around and explore safely.
4. Keep your pup safe
When you're out camping, there are dangers that come with it. From wild animals to unexpected weather, it's important to keep your dog safe at all times. Bring a pet first-aid kit, and make sure your dog stays on a leash or under your supervision at all times. Use flea and tick prevention and bring your dog's medications in case of an emergency.
5. Have fun!
Taking your dog on a camping trip can be an amazing experience for both of you. Enjoy the great outdoors by hiking with your pup, swimming in a lake, or playing fetch in an open field. Just remember to keep your dog happy and safe so that everyone has fun.
Camping with your furry friend can be one of the best bonding experiences you'll ever have. By following these tips for taking your dog camping, you can ensure that your pup stays safe and happy while enjoying nature's beauty. Make sure to prepare your dog for their adventure, stock up on essential supplies, and find a dog-friendly camp location that's perfect for your pup. As long as you're well-prepared and ready to have fun, you and your dog are sure to have an unforgettable trip!