There are many types of tent pegs available but which should you use and why?
When choosing suitable tent pegs you should take into account the weight, shape, size, material and the intended use. Some pegs are designed for different terrains and weather. It's always good to have a few spares to hand in case of unexpected conditions. Many campers upgrade some (or all) of the pegs that come as standard with their new tent. Make sure you angle your pegs away from your tent to maximise their ability withstand tension. One thing to note is that you don't want to use too strong a peg that the guy line rips away from the tent in a gust of wind – better to have the peg come loose and be able to 'reset' it.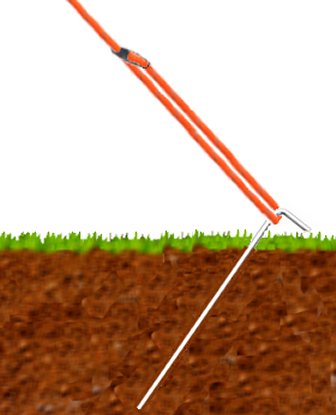 A) Small round steel pegs. These often come as standard with entry level tents, while they are fine for pegging out ground sheets and the base of your tent they are not really suitable for the main guy lines as they can easily turn and release the guy line or pull out of the ground in the slightest breeze. If you have to use these for guy lines you can use them in twos to form an 'X' facing the tent.
B) Commonly known as 'rock' pegs, these heavy metal pegs are designed to be hammered into firm ground where stones may be present. They tend to be used with larger tents where weight is not the main consideration.
C) 'V' shaped galvanised steel pegs have a good surface area allowing them to hold a lot of guy line tension, these make a good upgrade for the main guys if your tent only came with small round steel pegs. They work well in soft ground.


D) 'Y' shaped pegs/stakes are popular with higher spec. backpacking tents as they are usually made from aluminium or titanium to minimise weight, there shape enables them to take a fair amount of tension for their size. A good all rounder for smaller tents.
E) Brightly coloured plastic pegs are long lasting durable pegs that are easier to see than other types, are fairly lightweight and they will not rust. Not suitable for very firm or rocky ground
F) Long round steel pegs are an ideal upgrade for main guy line use or to bolster the side of the tent receiving the most wind. Filing the end to a point will make them easier to get into the ground.
G) Lightweight aluminium pegs are useful where weight is an issue, they tend to be of greater diameter than their steel equivalent but they will still bend. Lower in price than 'Y' shaped pegs and not as versatile.