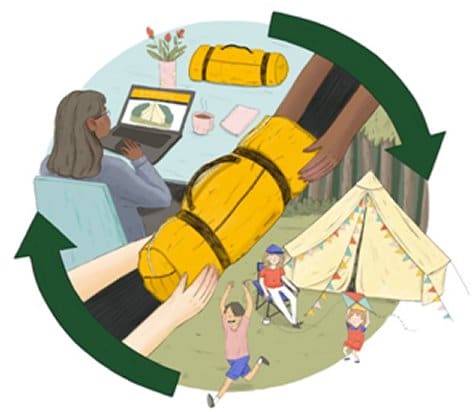 Make some money and reduce waste.
We all know there is nothing better than sleeping under the stars, enjoying the benefits of  being outside, experiencing time with our beautiful natural world. Nearly Wild Camping has created a directory of campsites that offer just this experience. Tentshare is offering a way to help the camping community share their tents and kit safely, earn money and reduce our carbon footprint.
Fondly referred to as Fresh-Airbnb, Tentshare is an online tent-matching service. The idea is simple: organized sharing. A tent owner can earn money sharing their kit with people in the local community who would like to camp but don't own a tent. The tent-borrower can rent a tent at an affordable cost.
Let's face it most of us campers have a couple (if not more) of tents stored and unused in our garage or loft. It's estimated that 250,00 tents go to landfill each year in the UK. If we all shared, we wouldn't need to keep buying cheap tents and them ending up in landfill.
Tentshare is committed to building a like-minded sharing community. We would love you to join us on our mission to share more and consume less. Tentshare provides a way earning and saving money for you, and in turn helping to protect our planet.
There are three ways we can help you and in turn, you can help protect our planet.

Rebecca Heaps
founder of Tentshare