Many of us have found a reignited passion for the great outdoors over the last year and a half and what better way to reconnect with nature than to go camping?! I recently heard of a new concept; "nearly wild camping" and was really intrigued to find out more about it. As someone who has enjoyed camping throughout my life, including wild camping (bush camping) across Africa, I am open to all things camping and started doing my research.
To understand Nearly Wild Camping, we need to understand what Wild Camping is. So What is Wild Camping?
Wild camping is where you camp on land that is not set up as a campsite and enjoy nature and solitude in the wilderness. Generally it is illegal to do so in most places in the UK without the landowner's permission, and so, if you do get caught, you risk being asked to move on. In many areas like Snowdonia and other National Parks there are wardens and gamekeepers who often move people on. The one place that does allow Wild Camping in England is Dartmoor but you must follow strict guidance on this. Check out the guide here. All wild campers love Scotland as it isn't prohibited there, so you can technically pitch up wherever you like including it's incredible National Parks, although there are some restrictions around Loch Lomond, so again check out and follow the local guidance here. Wild campers in Scotland are advised to follow the Scottish Outdoor Access Code, which is a great guide for all wild campers. Despite it being illegal, Wild camping is generally tolerated throughout the UK as long as you camp responsibly by following the 'leave no trace' principles; take all litter with you and leave no evidence of you having been there (burnt logs or damage to nature).
A typical wild camper travels light and minimalist, packing a little tent and the basic necessities for a night or two, then heading off into the mountains, pitching up at dusk and leaving at dawn, never staying in the same place more than 1 night. The idea is to be discreet, pitching up in a remote location where others are unlikely to see you.
How does Nearly Wild Camping compare?
Nearly Wild Camping a growing network of locations 'willing to host campers (in tents, hammocks, campervans or roof top tents) who are looking for a wilder, secluded or quieter camping experience'. There are over 150 locations across the UK in very different environments including by lakes, in forests, on clifftops and by beaches, with most locations allowing campfires/BBQs. They provide campers with a safe and secure location to enjoy a wilder camping experience at a price. Many locations also offer additional experiences such as bushcraft, bee keeping, pottery and fishing amongst others. With all this in mind, I had to try it out for myself!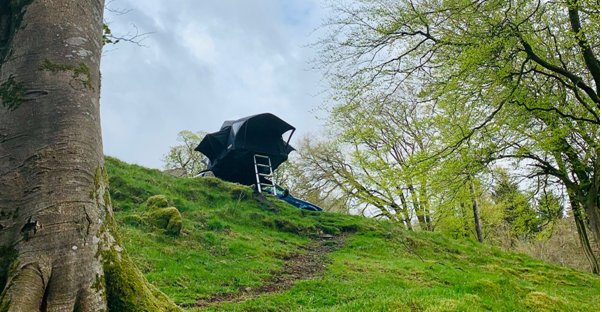 I went on a solo adventure with my Tentbox to North Wales where I stayed at 2 different Nearly Wild Campsites. I am a usually a very sociable person, so for me solo adventures are a fairly new thing. I have found solace in solitude throughout the Covid19 pandemic and healing in nature and hiking, but the thought of wild camping in my car on my own did give me quite a lot of anxiety. Nearly Wild Camping for me, was a great way to help me overcome this anxiety and grow confidence in being able to go on wild camping adventures in my car, on my own in the future.
My first campsite was in Anglesey at a Bee Keeping farm. I had the place to myself and parked up in their newly planted Bee friendly forest. The site offered fresh drinking water but not toilet or shower facilities due to them being built at that time. They had a large area of land dedicated to people who want to Nearly Wild camp and the lakeside area, I was told, had been really popular with hammock campers. They provided Bee Keeping courses and experiences and showed me their bees telling me all about their importance and how to become more bee friendly.
I had sheep, wild rabbits and birds for neighbours that night and sat out enjoying the evening until dusk. It was an incredibly peaceful night. I had my roof top tent all to myself for once which was great too as I could spread eagle. I made the most of my location to explore Anglesey including the stunning Newborough Beach and Bryn Celli Ddu, a 5000 year old neolithic burial chamber that was nearby.
My second night was at a Nearly Wild camp site on the Hafod Elwy National Nature Reserve. I had a great drive through the Ogwen Valley to get to it. This site was fairly busy with lots of campers, however due to the site being so big, everyone was dotted around with plenty privacy and space to themselves, so it did feel quite secluded. I had a perfect spot for my roof top tent with great views out to the nature reserve. I explored the site that offered Shepherd Huts to campers should they need. These were cool little huts that were completely empty inside but would offer protection against the elements in a storm for instance. There were hammock campers, families with children in large tents, groups of friends in wild camping tents and campervans. This camp provided toilets, showers and drinking water.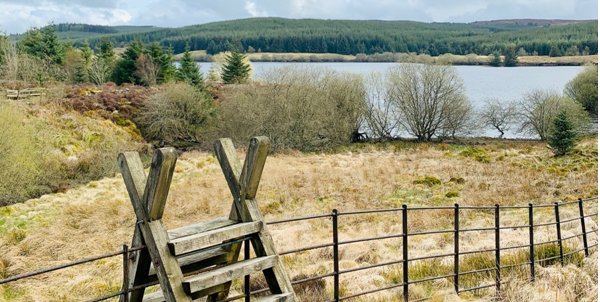 It was a great base to explore the Alwen reservoir and Llyn Brenig, so I went for a little adventure into the forest and got some stunning views. Despite the drizzly weather, it was a perfect weekend of peace, exploring and solo adventures.
I have since also stayed at a Nearly Wild Campsite in Cornwall during a weeklong road trip with my mama and son in my Tentbox. We were the only ones camping on a large clifftop field and had the most incredible views of the sea. This site provided a compost toilet and drinking water. Washing is fairly easy when camping if there are no shower facilities. We simply warmed some water on the stove and used this to have a proper wild camping wash… face, pits and bits.
The Benefits of Nearly Wild Camping
There are lots of benefits of Nearly Wild Camping. By paying to stay at a nearly wild camp, you have no risk of 'trespassing' or being asked to move on. You also support local businesses and landowners, something that the UKs economy will benefit from this year more than ever. Nearly Wild Campsites provide safety and security to those travelling alone, with children or who are just a bit nervous about trying Wild Camping yet. Many have amenities such as toilets, showers and drinking water which you wouldn't otherwise get when Wild Camping, although these are dependent on the individual locations. The best thing for me is that they provide wilder natural spaces for you to enjoy and re-connect with nature. Where normal campsites tend to be plain fields with no real character, Nearly Wild Campsites are just that… "Nearly Wild". I will definitely be staying at more Nearly Wild Campsites this summer and I think you should try them too!
Whether you Wild Camp or Nearly Wild camp, make sure you enjoy the beauty of nature and all she has to offer you and treat her with respect. Make sure you camp responsibly and ensure you follow the 'Leave No Trace' principles so we can all continues to enjoy these camping experiences and have ongoing access to the great British outdoors.
Janire is a travel blogger based in Shropshire who specialises in camping, outdoors and adventure travel. Her blog posts have been featured by Acacia Africa, Tentbox  and The Travel Cult.
Check out her Instagram account www.instagram.com/rayofsun_adventures