As we know, mishaps and injuries can and do happen when camping. Common injuries around the camp and when cooking include cuts and burns. Having the ability to deal with these can be as simple as having some basic first aid skills gained from joining a first aid training provider. Below are some simple rules to follow for burns and small cuts around the campfire*.
Burns:
Burns have three classifications in first aid terms, these are:
The outer layer of skin, or epidermis, is the only skin that is affected by a superficial burn. The skin is red and painful, and the area may swell slightly, but blisters will not be visible.
Partial thickness. This type of burn involves the dermis, the second layer of skin. The burn will be red and painful, as with a superficial burn, but the skin will often start to blister as well. This can take time, or it can begin immediately after receiving the burn.
Full thickness burn. burns go through the dermis and epidermis to the adipose tissue, or fat, below. Full thickness burns can destroy nerves, so the area may be numb. The appearance and feel of the skin may be altered and may appear white or tan and will be leathery or tough in some cases.
Burns First Aid.
Stop the burning Process:
Remove person/s from the source of the burn, once safe to do so
Extinguish burning clothing using water or the 'Stop, Drop and Roll' method
STOP where you are DROP to the ground and cover your eyes and mouth with your hands ROLL over and back and forth until the flames are out
Remove clothing and jewellery:
Remove any burned/contaminated/damp/constricting clothing, if able to do so
Remove any watches,jewellery, and contact lenses near burned area, if able to do so
Leave any molten/adherent clothing.
Cool the burn:
If water is available —
Do not delay cooling.
Cool the burn site immediately with cool running tap water for 20 minutes and within 3 hours of injury
Aim to complete 20 minutes of cooling. When far from help you can, utilise a bladder hydration pack, pinch the bite valve to administer water to the burn site moving over the wound site.
Further cooling attempts may induce hypothermia, especially where large burns are present.
If water supply is limited —
Apply a cool water compress using any clean wetted lint free cloth (such as a sling from your first aid kit)
Change the compress frequently over 20-minute period.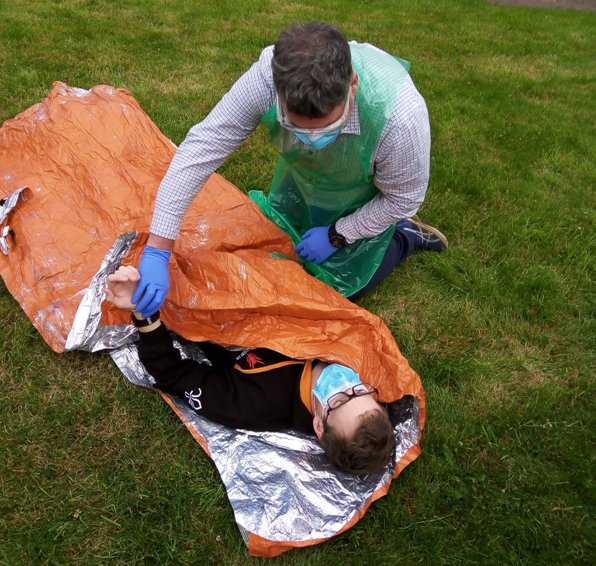 If no water is immediately available in any form, burns should be covered with cling film and cooled at the first available opportunity within 3 hours of injury.
Warm the patient:
Cuts:
Cuts to the fingers and hands can cause other injuries, such as damage to tendons, ligaments, and bones, when preparing meals or carrying out other tasks utilising your knife. Any open wound needs to be cleaned thoroughly and the wound site inspected. Clean the affected using sterile saline wipes found in all basic first aid kits including our value outdoor first aid kit [ https://remotefirstaid.co.uk/product/value-outdoor-pursuits-first-aid-kit/ ]these are simple swabs of medical grade paper, that has saline impregnated into them at 0.09% strength. This helps clean the affected site and allowing the inspection of the wound site. Dry the area and then cover. If like me you find plaster simply un-workable outdoors, then consider using a soft foam bandage, such as the Cederrorthhttps://remotefirstaid.co.uk/product/cederroth-soft-foam-bandage-blue-pocket-size/
Burns, & Cuts – CSM checks.
CSM checks are C for Circulation, S for Sensation and M for Movement. These must be considered in the above injuries and compromise to these may lead tonegative outcomes and can lead to limb threatening injuries if any of these are compromised.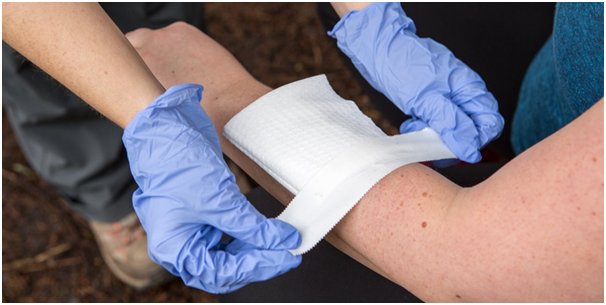 The above post is not a substitute for joining a practical first aid training course for the outdoors. We recommend those wishing to develop a range of first aid skills for the outdoor enthusiast, such as the 16-hour outdoor pursuits first aid training we run at venues in the Wye Valley and Snowdonia.
[ https://remotefirstaid.co.uk/outdoor-activity-instructors-first-aid-training-courses/ ]
Author bio:
Peter Cook is an avid outdoor enthusiast, qualified Mountain Leader, and member of the Royal Geographical Society. Additionally, Pete holds membership of the Royal College of Surgeons Edinburgh's – Faculty of Pre-Hospital Care at Level F. Pete splits his time between running his business interests and working on frontline NHS Ambulances in England & Wales. Pete is able to offer individual members and business members tailored first aid training for outdoor, remote and activity specific training at discounted rates.
You may contact Pete via [email protected]